I'm thankful to God for direction the Bible provides.
At the end of James 1, there is instruction of how to truly serve God. The most important part that stands out to me is to care for the widows and the orphans.
Last night I was watching PBS. A documentary about women Indian doctors was airing. One doctor cared for children. Once, when she delivered a baby the mother was an alcoholic. When the baby was born even the amniotic fluid strongly smelled of alcohol. The baby had several birth defects and the mother rejected him. The small town Indian doctor took the baby in as a foster child and later adopted him. He would become the oldest of six children. He had many struggles, even to just speak but he was loved by his family and they did everything together. This doctor made James 1:27 a reality.
I thank God Christmas is coming. It's definitely the giving season of the year and great opportunities are everywhere to help the struggling and less fortunate. We have opportunity to be servants to the helpless.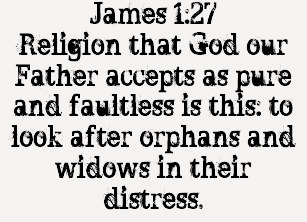 James 1:
26 If you claim to be religious but don't control your tongue, you are fooling yourself, and your religion is worthless.27 Pure and genuine religion in the sight of God the Father means caring for orphans and widows in their distress and refusing to let the world corrupt you.