God resists the proud and gives grace to the humble. Jesus gave the greatest example of this for all to see. He existed as the Son of God but He humbled Himself to become a mere human like the rest of us. In His humanity He never sinned. Then He died a humiliating, lowly death by crucifixion. Humanity needed this to cover all our wrong. And Jesus fulfilled that desperate need. God exalted Him after He overcame death, sin and Hell. Now and forever Jesus is the most powerful name in all existence! As Christians we need to proclaim His powerful name everyday! He is the eternal king of all kings! And what's so amazing, as Christians, we are hidden in Him and all His power!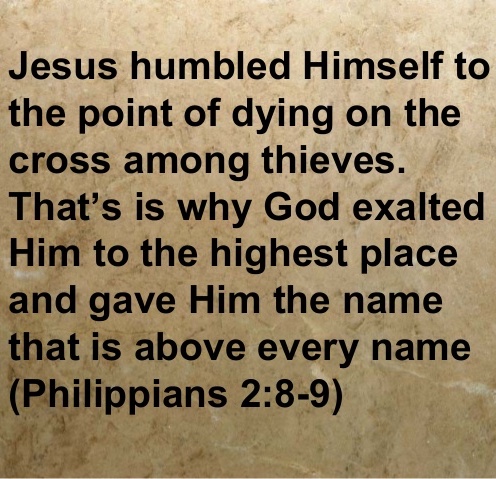 Philippians 2:
Though he was God,
    he did not think of equality with God
    as something to cling to.
7 Instead, he gave up his divine privileges;
    he took the humble position of a slave
    and was born as a human being.
When he appeared in human form,
8     he humbled himself in obedience to God
    and died a criminal's death on a cross.
9 Therefore, God elevated him to the place of highest honor
    and gave him the name above all other names,
10 that at the name of Jesus every knee should bow,
    in heaven and on earth and under the earth,
11 and every tongue declare that Jesus Christ is Lord,
    to the glory of God the Father.