Thank God when you awake and when you go to sleep. Thank Him with singing and musical instruments.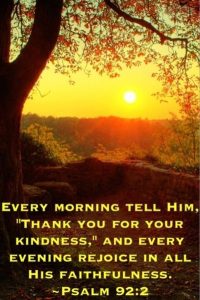 Psalm 92:
1It is good to give thanks to the Lord,
to sing praises to the Most High.
2 It is good to proclaim your unfailing love in the morning,
your faithfulness in the evening,
3 accompanied by a ten-stringed instrument, a harp,
and the melody of a lyre.
4 You thrill me, Lord, with all you have done for me!
I sing for joy because of what you have done.
5 O Lord, what great works you do!
And how deep are your thoughts.