I thank God ahead of time that He has given my family success.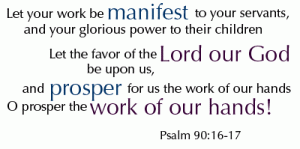 Psalm 90:
Satisfy us each morning with your unfailing love,
so we may sing for joy to the end of our lives.
15 Give us gladness in proportion to our former misery!
Replace the evil years with good.
16 Let us, your servants, see you work again;
let our children see your glory.
17 And may the Lord our God show us his approval
and make our efforts successful.
Yes, make our efforts successful!