I heard on the news that ten percent of the population in Sri Lanka is Christian. Last week on Easter Sunday, Christians were massacred by terrorists as they went to church to celebrate the resurrection of Jesus. Psalm 94 speaks of those who do such wicked deeds. Vengeance belongs to God and He has the best plan to punish these evildoers. Sri Lanka is in the forefront today of how Christians are persecuted all over the world. I pray the words of Psalm 94 for my brothers and sisters under oppression for following Jesus.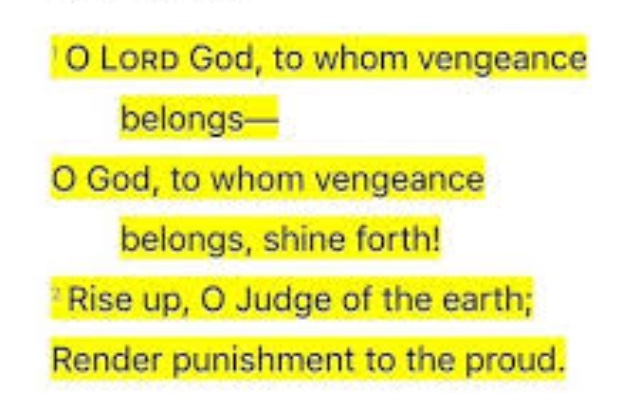 Psalm 94 ~
O Lord, the God of vengeance,
    O God of vengeance, let your glorious justice shine forth!
2 Arise, O Judge of the earth.
    Give the proud what they deserve.
3 How long, O Lord?
    How long will the wicked be allowed to gloat?
4 How long will they speak with arrogance?
    How long will these evil people boast?
5 They crush your people, Lord,
    hurting those you claim as your own.
6 They kill widows and foreigners
    and murder orphans.
7 "The Lord isn't looking," they say,
    "and besides, the God of Israel[a] doesn't care."
8 Think again, you fools!
    When will you finally catch on?
9 Is he deaf—the one who made your ears?
    Is he blind—the one who formed your eyes?
10 He punishes the nations—won't he also punish you?
    He knows everything—doesn't he also know what you are doing?
11 The Lord knows people's thoughts;
    he knows they are worthless!