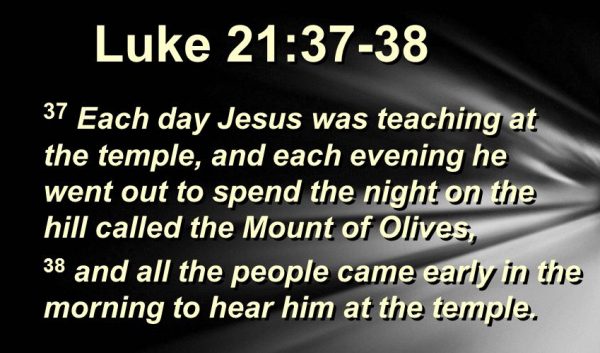 Jesus told His disciples about the end times. A short while later the religious leaders began to plot in how they would kill Jesus. In between those events, Luke wrote that Jesus did two important activities. He taught in the temple to an attentive audience and then through the night He would pray.
We won't face the hardship of dying on the cross for the sins of humanity but we can learn from Jesus and if we know something difficult is headed our way we should keep working, keep our Christian witness and deeply seek God.
Luke 21 ~
34 "Watch out! Don't let your hearts be dulled by carousing and drunkenness, and by the worries of this life. Don't let that day catch you unaware, 35 like a trap. For that day will come upon everyone living on the earth. 36 Keep alert at all times. And pray that you might be strong enough to escape these coming horrors and stand before the Son of Man."
37 Every day Jesus went to the Temple to teach, and each evening he returned to spend the night on the Mount of Olives. 38 The crowds gathered at the Temple early each morning to hear him.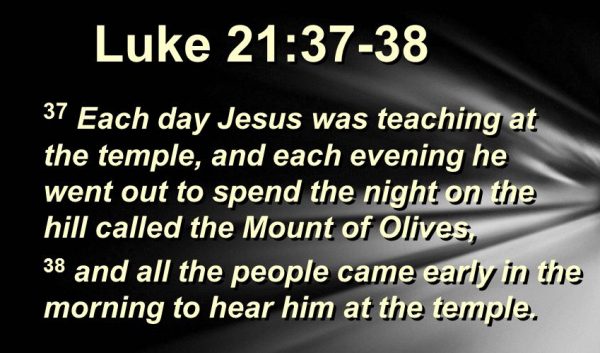 Luke 22 ~
1The Festival of Unleavened Bread, which is also called Passover, was approaching. 2 The leading priests and teachers of religious law were plotting how to kill Jesus, but they were afraid of the people's reaction.
3Then Satan entered into Judas Iscariot, who was one of the twelve disciples, 4 and he went to the leading priests and captains of the Temple guard to discuss the best way to betray Jesus to them. 5 They were delighted, and they promised to give him money.6 So he agreed and began looking for an opportunity to betray Jesus so they could arrest him when the crowds weren't around.