The world needs more Joshuas and Calebs today. I'm praying it in! It's gonna happen so revival can come to this modern day sinful world. I'm asking God to use older men to lead our churches to bring revival. They have great wisdom of many years, they have a strong mind, godly hard work ethic and that they live long lives. They even have the strength of young men. I thank God it's already happening.
They know how to be a servant leader. They  confidently lead Christians in taking the Promised Land which is souls for the Kingdom of Heaven. They know how to break down great walls of hardened hearts in individual lives. They know how to kill the giants of sin that keep people from God. And the most amazing truth of all about these modern day Joshuas and Calebs, is this, God has already went ahead and won their battles! Wow, powerful! Thank God!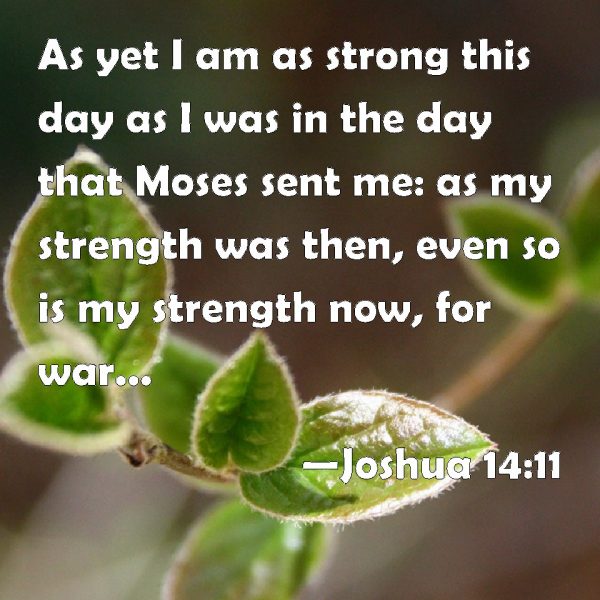 Joshua 24 ~
29 After this, Joshua son of Nun, the servant of the Lord, died at the age of 110. 30 They buried him in the land he had been allocated, at Timnath-serah in the hill country of Ephraim, north of Mount Gaash.
Joshua 14 ~
6 A delegation from the tribe of Judah, led by Caleb son of Jephunneh the Kenizzite, came to Joshua at Gilgal. Caleb said to Joshua, "Remember what the Lord said to Moses, the man of God, about you and me when we were at Kadesh-barnea. 7 I was forty years old when Moses, the servant of the Lord, sent me from Kadesh-barnea to explore the land of Canaan. I returned and gave an honest report,8 but my brothers who went with me frightened the people from entering the Promised Land. For my part, I wholeheartedly followed the Lord my God. 9 So that day Moses solemnly promised me, 'The land of Canaan on which you were just walking will be your grant of land and that of your descendants forever, because you wholeheartedly followed the Lord my God.'
10 "Now, as you can see, the Lord has kept me alive and well as he promised for all these forty-five years since Moses made this promise—even while Israel wandered in the wilderness. Today I am eighty-five years old. 11 I am as strong now as I was when Moses sent me on that journey, and I can still travel and fight as well as I could then.12 So give me the hill country that the Lord promised me. You will remember that as scouts we found the descendants of Anak living there in great, walled towns. But if the Lord is with me, I will drive them out of the land, just as the Lord said."
13 So Joshua blessed Caleb son of Jephunneh and gave Hebron to him as his portion of land. 14 Hebron still belongs to the descendants of Caleb son of Jephunneh the Kenizzite because he wholeheartedly followed the Lord, the God of Israel.
Joshua 15 ~
13 The Lord commanded Joshua to assign some of Judah's territory to Caleb son of Jephunneh. So Caleb was given the town of Kiriath-arba (that is, Hebron), which had been named after Anak's ancestor. 14 Caleb drove out the three groups of Anakites—the descendants of Sheshai, Ahiman, and Talmai, the sons of Anak.
15 From there he went to fight against the people living in the town of Debir (formerly called Kiriath-sepher).