Joshua helped Moses lead the Israelites. When they surveyed the Promised Land Joshua and Caleb were the only ones who gave a good report that they could take the land from its inhabitants. God, Himself, encouraged Joshua as he took the lead in Moses' place. God showed the people He was with Joshua when he parted the Jordan River. Then God told Joshua, at the start, to do something difficult and that was to circumcise the Israelite men before they started taking over in the Promised Land.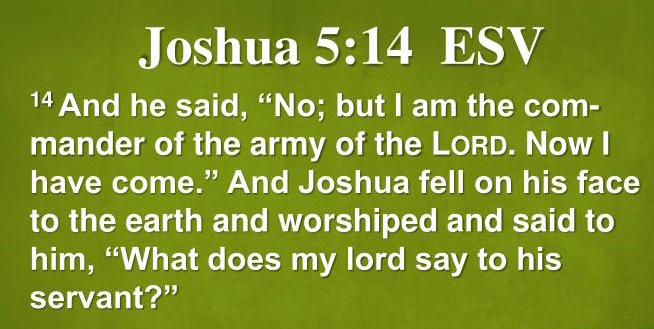 Joshua was a godly leader. When they were beginning to take land, the city of Jericho, Joshua met the angel commander of God's army. God's army was preparing to fight the battle! Joshua was humble. This great leader fell to his knees in front of the mighty angel.
We need leaders among Christians and in our government; local, state and federal, who are mighty, humble and obedient like Joshua! Even in countries that are hostile to Christianity, we need such leaders to bring the Gospel to their land.
Joshua 5 ~
13 When Joshua was near the town of Jericho, he looked up and saw a man standing in front of him with sword in hand. Joshua went up to him and demanded, "Are you friend or foe?"
14 "Neither one," he replied. "I am the commander of the Lord's army."
At this, Joshua fell with his face to the ground in reverence. "I am at your command," Joshua said. "What do you want your servant to do?"
15 The commander of the Lord's army replied, "Take off your sandals, for the place where you are standing is holy." And Joshua did as he was told.