The Israelites had patiently made it through the trials of a stubborn Egyptian Pharoah not wanting them to leave his land where he oppressed them. Then God mightily delivered them and destroyed Pharoah in the Red Sea.
Then the Israelites had to deal with the own struggles of sin while traveling to land of God's fulfilled promise to their ancestor Abraham.
When they were about to enter the Promised Land God gave them many instructions to obey and closely follow Him. God said even though the people in the Promised Land looked intimidating He would fight for and give the Israelites their land.
As Christians, we can apply these three scenarios to the situations we go through.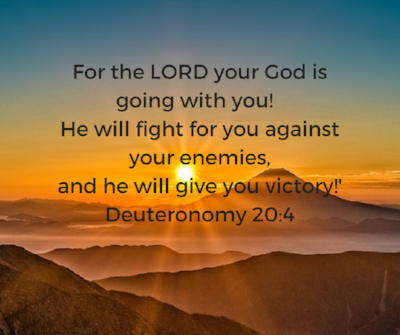 Deuteronomy 20:
20 "When you go out to fight your enemies and you face horses and chariots and an army greater than your own, do not be afraid. The Lord your God, who brought you out of the land of Egypt, is with you! 2 When you prepare for battle, the priest must come forward to speak to the troops. 3 He will say to them, 'Listen to me, all you men of Israel! Do not be afraid as you go out to fight your enemies today! Do not lose heart or panic or tremble before them. 4 For the Lord your God is going with you! He will fight for you against your enemies, and he will give you victory!'