I woke up with a song bumping all around the walls in my brain. It was an old song for young people but it's a worthy classic. It was  by aChristian singer, Rich Mullins ~ the song, Step By Step. And to my surprise, when I read Psalm 63 this morning, there were the words in the first verse! I love when that happens. I'm in tune with God. And I love that so long ago the man who was a man after God's own heart, penned those words in the Bible. David was the songwriter and musician of the Old Testament. Rich Mullins made his words famous again a few decades ago. I'm glad that song is a song that gets stuck in your brain. Over and over the Word of God plays in your mind and your heart hears it and your life gets better!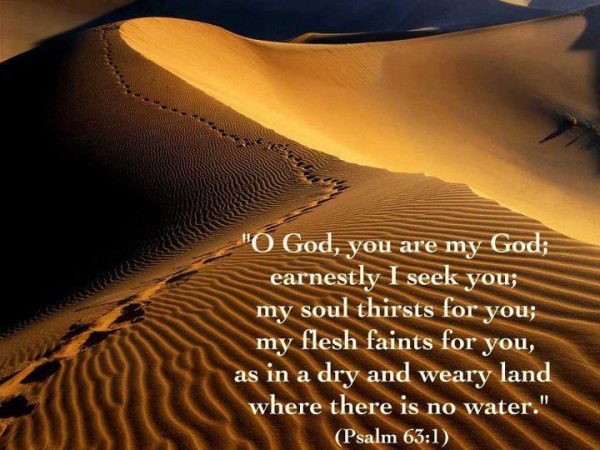 Psalm 63:
O God, you are my God;
    I earnestly search for you.
My soul thirsts for you;
    my whole body longs for you
in this parched and weary land
    where there is no water.
2 I have seen you in your sanctuary
    and gazed upon your power and glory.
3 Your unfailing love is better than life itself;
    how I praise you!
4 I will praise you as long as I live,
    lifting up my hands to you in prayer.
5 You satisfy me more than the richest feast.
    I will praise you with songs of joy.
6 I lie awake thinking of you,
    meditating on you through the night.
7 Because you are my helper,
    I sing for joy in the shadow of your wings.
8 I cling to you;
    your strong right hand holds me securely.