I thank God that His grace and love shines the most in our lives when we are humble. For a while, almost a year, I have been personally writing down verses referring to humbleness when they cross my path as I read the Bible each day.  I put my list at the end of this entry. It helped me realize humbleness is important if you want God to really use you. You have to be yielded to what He wants. In the following six verses, James stressed it three times.
James 4:
5 Do you think the Scriptures have no meaning? They say that God is passionate that the spirit he has placed within us should be faithful to him. 6 And he gives grace generously. As the Scriptures say,
"God opposes the proud
    but gives grace to the humble."
7 So humble yourselves before God. Resist the devil, and he will flee from you. 8 Come close to God, and God will come close to you. Wash your hands, you sinners; purify your hearts, for your loyalty is divided between God and the world. 9 Let there be tears for what you have done. Let there be sorrow and deep grief. Let there be sadness instead of laughter, and gloom instead of joy. 10 Humble yourselves before the Lord, and he will lift you up in honor.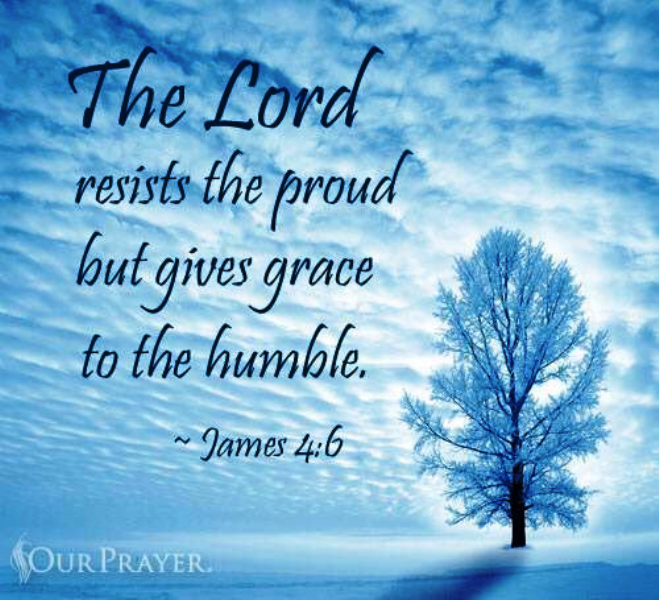 My humble little list~
Proud/Humble verses
Stay humble. Trust God.
Ps 138:6 lowly
Pr 18:12 haughty, humility
Pr 21:24 mockers proud
Ps 149:4 takes pleasure in humble
Ps 149:1 humble have victory 
Pr 11:12 pride— disgrace
Ps 18:27 humiliate the proud
Pr 21:4 proud heart
Pr 22:4 reward
Pr 29:1 hardens his neck 
Isaiah 2:11 (2:17) human pride God exalted
2 Chronicles 33:12 Mannasseh humbled
2 Corinthians 10:17-18 boast only in God
Is 26:5-6– proud cities are given to the poor
Eph 3:8-:21 Paul's humbleness
Eph 4:2 humble and gentle
Is 45:16-17 Israel not humiliated
Ps 69:32-33 David's enemies humbled him. His emotional cry to God
Philippians 2:6-11 humble Jesus, the name above all
Philippians 2:3
Is 66:2 tremble at God's Word
Ps 74:21 downtrodden not humiliated
Jeremiah 13:15-16 no arrogance, praise God
Ps 101:5
Hebrews 1:13– Your humbled enemies