I had the sweet privilege of fulfilling a dream last summer. I traveled to the Grand Canyon, looked over its amazing vastness and with my mom nearby I sang How Great Thou Art! Yes! God is by far greater and much more amazing than the Grand Canyon that He spoke into existence!
Someday I want to go Israel. I know, because I devour God's Word every morning and any other time possible, that He has blessed Israel far above any other nation.
I'm with Israel! I would love to go there and boldly proclaim this promise and blessing that is on Israel and my life, also, as a Christian!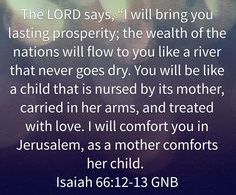 But for today, I remind God and myself of His promise over Israel. I ask Him to show me how to invest in Israel…through prayer for protection and peace and then through  financial investment. Israel wins and I'm with them, so I win too!
These coming verses are powerful, powerful, powerful! In this moment!…I boldly proclaim God's powerful promises from this passage over my family for this day and then forever! Wow! Thank you God!
Isaiah 66:
10 Rejoice with Jerusalem! Be glad with her, all you who love her and all you who mourn for her.
11 Drink deeply of her glory even as an infant drinks at its mother's comforting breasts.
12 This is what the Lord says: "I will give Jerusalem a river of peace and prosperity. The wealth of the nations will flow to her. Her children will be nursed at her breasts, carried in her arms, and held on her lap.
13 I will comfort you there in Jerusalem as a mother comforts her child."
14 When you see these things, your heart will rejoice. You will flourish like the grass! Everyone will see the Lord's hand of blessing in his servants— and his anger against his enemies.