Manasseh was the king of Judah. He went against God but then he became humble and God was moved by his cry and his prayers changed things.
2 Chronicles
Manasseh was twelve years old when he became king, and he reigned in Jerusalem fifty-five years. 2 He did what was evil in the Lord's sight, following the detestable practices of the pagan nations that the Lord had driven from the land ahead of the Israelites.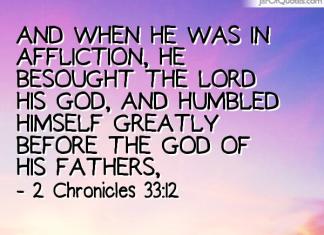 10 The Lord spoke to Manasseh and his people, but they ignored all his warnings. 11 So the Lord sent the commanders of the Assyrian armies, and they took Manasseh prisoner. They put a ring through his nose, bound him in bronze chains, and led him away to Babylon. 12 But while in deep distress, Manasseh sought the Lord his God and sincerely humbled himself before the God of his ancestors. 13 And when he prayed, the Lord listened to him and was moved by his request. So the Lordbrought Manasseh back to Jerusalem and to his kingdom. Then Manasseh finally realized that the Lord alone is God!