God was with King David. He brought him from the lowly job of tending the family's sheep, then established his throne and would make him famous.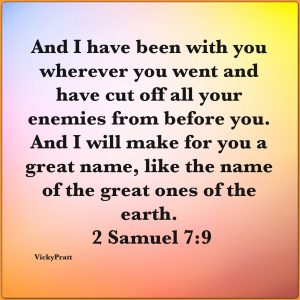 2 Samuel 7:
8 "Now go and say to my servant David, 'This is what the Lord of Heaven's Armies has declared: I took you from tending sheep in the pasture and selected you to be the leader of my people Israel. 9 I have been with you wherever you have gone, and I have destroyed all your enemies before your eyes. Now I will make your name as famous as anyone who has ever lived on the earth! 10 And I will provide a homeland for my people Israel, planting them in a secure place where they will never be disturbed. Evil nations won't oppress them as they've done in the past, 11 starting from the time I appointed judges to rule my people Israel. And I will give you rest from all your enemies.
"'Furthermore, the Lord declares that he will make a house for you—a dynasty of kings! 12 For when you die and are buried with your ancestors, I will raise up one of your descendants, your own offspring, and I will make his kingdom strong. 13 He is the one who will build a house—a temple—for my name. And I will secure his royal throne forever. 14 I will be his father, and he will be my son. If he sins, I will correct and discipline him with the rod, like any father would do. 15 But my favor will not be taken from him as I took it from Saul, whom I removed from your sight. 16 Your house and your kingdom will continue before me[a] for all time, and your throne will be secure forever.'"
17 So Nathan went back to David and told him everything the Lord had said in this vision.