When Jesus walked on this earth all that He did was to help people believe to have eternal life.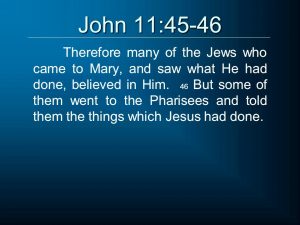 John 11:
41 So they rolled the stone aside. Then Jesus looked up to heaven and said, "Father, thank you for hearing me. 42 You always hear me, but I said it out loud for the sake of all these people standing here, so that they will believe you sent me." 43 Then Jesus shouted, "Lazarus, come out!" 44 And the dead man came out, his hands and feet bound in graveclothes, his face wrapped in a headcloth. Jesus told them, "Unwrap him and let him go!"
45 Many of the people who were with Mary believed in Jesus when they saw this happen. 46 But some went to the Pharisees and told them what Jesus had done. 47 Then the leading priests and Pharisees called the high council together. "What are we going to do?" they asked each other. "This man certainly performs many miraculous signs. 48 If we allow him to go on like this, soon everyone will believe in him. Then the Roman army will come and destroy both our Temple and our nation."
49 Caiaphas, who was high priest at that time, said, "You don't know what you're talking about! 50 You don't realize that it's better for you that one man should die for the people than for the whole nation to be destroyed."
51 He did not say this on his own; as high priest at that time he was led to prophesy that Jesus would die for the entire nation. 52 And not only for that nation, but to bring together and unite all the children of God scattered around the world.