Ahimilech was a priest. He stood up for David against King Saul. The priests were very important in Old Testament times. He tried to reason with King Saul that David was a good man. Saul wouldn't listen and had him and 85 other priests killed. This happened during the transition of reign from Saul to David and David was hiding out from King Saul at the cave of Adullam.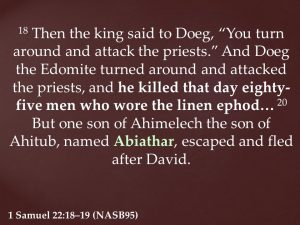 1 Samuel 22:
14 "But sir," Ahimelech replied, "is anyone among all your servants as faithful as David, your son-in-law? Why, he is the captain of your bodyguard and a highly honored member of your household! 15 This was certainly not the first time I had consulted God for him! May the king not accuse me and my family in this matter, for I knew nothing at all of any plot against you."
16 "You will surely die, Ahimelech, along with your entire family!" the king shouted. 17 And he ordered his bodyguards, "Kill these priests of the Lord, for they are allies and conspirators with David! They knew he was running away from me, but they didn't tell me!" But Saul's men refused to kill the Lord's priests.
18 Then the king said to Doeg, "You do it." So Doeg the Edomite turned on them and killed them that day, eighty-five priests in all, still wearing their priestly garments. 19 Then he went to Nob, the town of the priests, and killed the priests' families—men and women, children and babies—and all the cattle, donkeys, sheep, and goats.
20 Only Abiathar, one of the sons of Ahimelech, escaped and fled to David. 21 When he told David that Saul had killed the priests of the Lord, 22 David exclaimed, "I knew it! When I saw Doeg the Edomite there that day, I knew he was sure to tell Saul. Now I have caused the death of all your father's family. 23 Stay here with me, and don't be afraid. I will protect you with my own life, for the same person wants to kill us both."