Every time I read about someone in the Bible who has an exceptional, something rises up in me and says I want that quality in my life. So, in that moment, I asked God for it. All the most desirable qualities found in all the Bible characters I have prayed for in my life for about thirty years when I come across them. God has heard every one of those prayers and will answer them in amazing ways. So, today I am beginning to pray these over my four grown kids and future generations! This is going to be powerful!
Caleb was an old man. He served God wholeheartedly. He was still strong like a young man in his latter years. He was also adventurous and wanted to conquer for himself his part of the Promised Land.
Dear Heavenly Father,
Thank you for the example of Caleb. Help my family and I and our future generations be like him. Thank you in advance for building in us these great qualities which will help us to be three generations strong in each of our lives (like Abraham, Isaac and Jacob) for the sake of the Gospel!
Caleb was
1)as strong as a young man at 85!
2)adventurous and confident enough to go and conquer in his own part of the Promised Land, Hebron.
3)a man who wholeheartedly followed God.
4)faithful to God like Joshua, in his younger years and gave a good report when they first went in to survey the Promised Land. He didn't yield to peer pressure.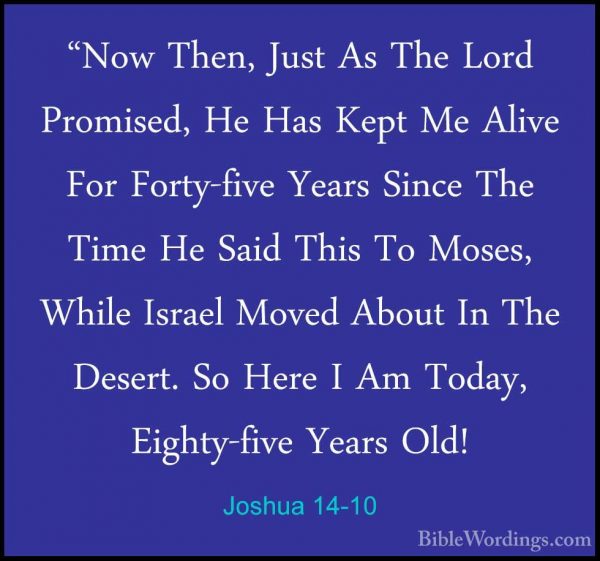 Joshua 14 ~
6 A delegation from the tribe of Judah, led by Caleb son of Jephunneh the Kenizzite, came to Joshua at Gilgal. Caleb said to Joshua, "Remember what the Lord said to Moses, the man of God, about you and me when we were at Kadesh-barnea. 7 I was forty years old when Moses, the servant of the Lord, sent me from Kadesh-barnea to explore the land of Canaan. I returned and gave an honest report,8 but my brothers who went with me frightened the people from entering the Promised Land. For my part, I wholeheartedly followed the Lord my God. 9 So that day Moses solemnly promised me, 'The land of Canaan on which you were just walking will be your grant of land and that of your descendants forever, because you wholeheartedly followed the Lord my God.'
10 "Now, as you can see, the Lord has kept me alive and well as he promised for all these forty-five years since Moses made this promise—even while Israel wandered in the wilderness. Today I am eighty-five years old. 11 I am as strong now as I was when Moses sent me on that journey, and I can still travel and fight as well as I could then.12 So give me the hill country that the Lord promised me. You will remember that as scouts we found the descendants of Anak living there in great, walled towns. But if the Lord is with me, I will drive them out of the land, just as the Lord said."
13 So Joshua blessed Caleb son of Jephunneh and gave Hebron to him as his portion of land. 14 Hebron still belongs to the descendants of Caleb son of Jephunneh the Kenizzite because he wholeheartedly followed the Lord, the God of Israel.15 (Previously Hebron had been called Kiriath-arba. It had been named after Arba, a great hero of the descendants of Anak.)