It's 7:35 am. I'm starting the day putting God first. It's gotta be that way. I read and then pray Bible verses over all my acquaintances.
I hope that anyone who reads these words, doesn't just have a good day, or a great day or even a blessed day. Let it be that you have a HEALED day. Jesus is the ultimate Healer. He heals in every way. Most importantly, He heals us from our sin that separates us from God. May He invade your day (and every day) and heal you in every way.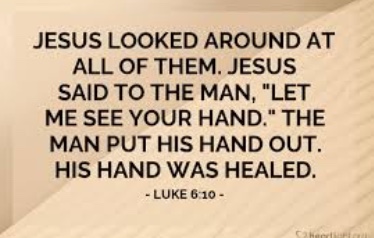 I love to scour over the stories of Jesus healing people. They are found in the four Gospels. Jesus still heals today just like He healed the man with the withered hand in Luke 6 ~
6 On another Sabbath day, a man with a deformed right hand was in the synagogue while Jesus was teaching.7 The teachers of religious law and the Pharisees watched Jesus closely. If he healed the man's hand, they planned to accuse him of working on the Sabbath.
8 But Jesus knew their thoughts. He said to the man with the deformed hand, "Come and stand in front of everyone." So the man came forward.9 Then Jesus said to his critics, "I have a question for you. Does the law permit good deeds on the Sabbath, or is it a day for doing evil? Is this a day to save life or to destroy it?"
10 He looked around at them one by one and then said to the man, "Hold out your hand." So the man held out his hand, and it was restored! 11 At this, the enemies of Jesus were wild with rage and began to discuss what to do with him.