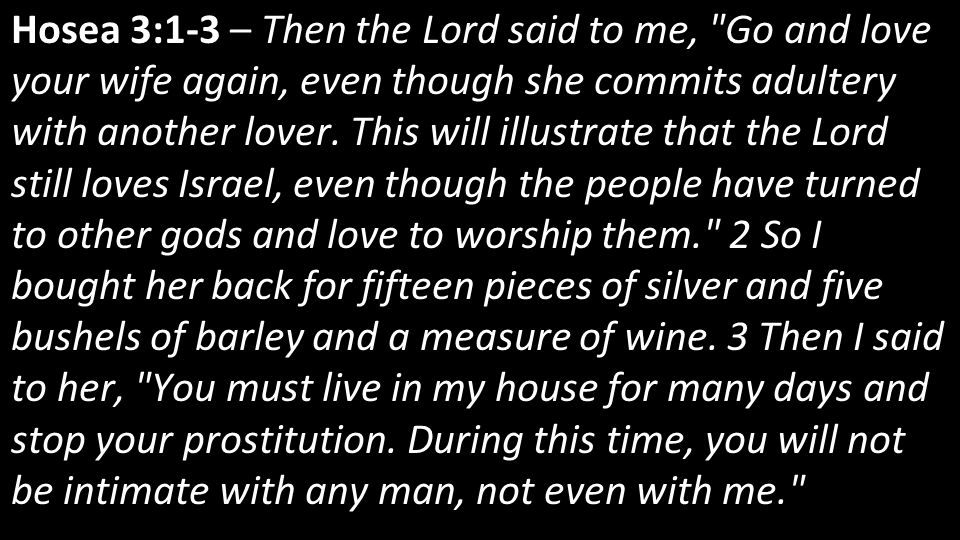 The story of Hosea, a minor prophet of the Bible, is a bazaar story to me. Hosea followed God but God had an unusual plan for his life. Anyone that truly wants to obey God will seek out to do right. God straight out told Hosea to marry a practicing prostitute. Imagine today, if some young man, going to seminary and planning to be a preacher, was convinced that it was God's will that he go out and marry a prostitute and have children with her while she continued her ungodly lifestyle. No one would believe or trust him! Yet that was what God had Hosea do! God wanted to use Hosea to stress to Isreal their actions were like that of Hosea's wife, Gomer. Hosea obeyed God and had a family. God loved Isreal so much that He used His faithful servant to show His people that His love toward them is unfailing even though they deeply hurt him again and again as they choose to worship false gods and stay addicted to sin. God said to them again and again that He wanted to be their God and that they would be His people.
Today, in my life and in many of those around me, I want God to truly know, I want God to know that as Christians, Yes, He is our God and we are His people and we will work to bring others to Him!
Hosea 3:
3 Then the Lord said to me, "Go and love your wife again, even though she commits adultery with another lover. This will illustrate that the Lord still loves Israel, even though the people have turned to other gods and love to worship them."
2 So I bought her back for fifteen pieces of silver and five bushels of barley and a measure of wine.  3 Then I said to her, "You must live in my house for many days and stop your prostitution. During this time, you will not have sexual relations with anyone, not even with me."
4 This shows that Israel will go a long time without a king or prince, and without sacrifices, sacred pillars, priests, or even idols! 5 But afterward the people will return and devote themselves to the Lord their God and to David's descendant, their king.   In the last days, they will tremble in awe of the Lord and of his goodness.