Personally, I gotta work harder and be more versatile for God. I'm thankful for opportunities to grow at church. Even though I meet them with words of opposition. I've been praying many years for revival. If God opens the window of blessings over our Christian lives and pours out a revival that's so massive it's hard for us to take it all in. We must anyway.
God, give me the attitude to promptly take on these blessings even if my flesh is saying no. In the moment, dear God, help me promptly stop my mouth from speaking and yielding to a tired body.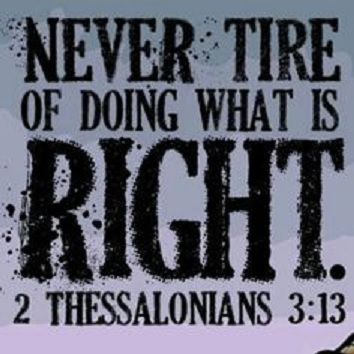 2 Thessalonians 3:
6 And now, dear brothers and sisters, we give you this command in the name of our Lord Jesus Christ: Stay away from all believers[a] who live idle lives and don't follow the tradition they received[b] from us. 7 For you know that you ought to imitate us. We were not idle when we were with you. 8 We never accepted food from anyone without paying for it. We worked hard day and night so we would not be a burden to any of you. 9 We certainly had the right to ask you to feed us, but we wanted to give you an example to follow. 10 Even while we were with you, we gave you this command: "Those unwilling to work will not get to eat."
11 Yet we hear that some of you are living idle lives, refusing to work and meddling in other people's business.12 We command such people and urge them in the name of the Lord Jesus Christ to settle down and work to earn their own living. 13 As for the rest of you, dear brothers and sisters, never get tired of doing good.