Give to God. Give in every way. Give with your time. Give with your money. Give with your actions, even with your smile. Give when you like to. Give when you don't really want to give. Look around and find ways to give. Give to the homeless. Give with your words, the kindest ones you can think of. Give when the receiver looks at you and doesn't really want what you gave them. Give away your favorite clothes. And strive to give with happiness. And then thank God you can give. Base your life on giving and then give all those deeds to God and tell Him you did it just so His name would be honored!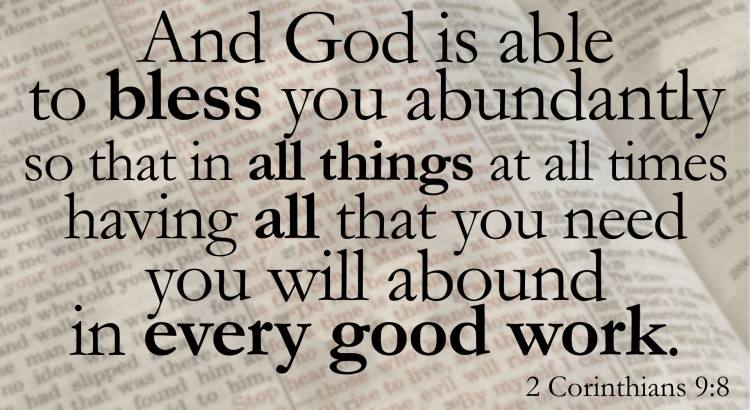 2 Corinthians 9:
6 Remember this—a farmer who plants only a few seeds will get a small crop. But the one who plants generously will get a generous crop. 7 You must each decide in your heart how much to give. And don't give reluctantly or in response to pressure. "For God loves a person who gives cheerfully." 8 And God will generously provide all you need. Then you will always have everything you need and plenty left over to share with others. 9 As the Scriptures say,
"They share freely and give generously to the poor.
    Their good deeds will be remembered forever."
10 For God is the one who provides seed for the farmer and then bread to eat. In the same way, he will provide and increase your resources and then produce a great harvest of generosity in you.
11 Yes, you will be enriched in every way so that you can always be generous. And when we take your gifts to those who need them, they will thank God. 12 So two good things will result from this ministry of giving—the needs of the believers in Jerusalem will be met, and they will joyfully express their thanks to God.