King David was taking back his throne from his Absalom (who died trying to conquer his father). It was a grievous hardship for King David to lose his son in such a tragic situation. He was now crossing the Jordan to return to his throne. A man named Barzillal was eighty years old and wanted to help him return to his palace.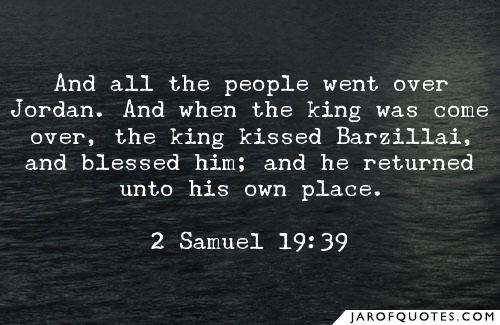 2 Samuel 19:
31 Barzillai of Gilead had come down from Rogelim to escort the king across the Jordan. 32 He was very old—eighty years of age—and very wealthy. He was the one who had provided food for the king during his stay in Mahanaim. 33 "Come across with me and live in Jerusalem," the king said to Barzillai. "I will take care of you there."
34 "No," he replied, "I am far too old to go with the king to Jerusalem. 35 I am eighty years old today, and I can no longer enjoy anything. Food and wine are no longer tasty, and I cannot hear the singers as they sing. I would only be a burden to my lord the king. 36 Just to go across the Jordan River with the king is all the honor I need! 37 Then let me return again to die in my own town, where my father and mother are buried. But here is your servant, my son Kimham. Let him go with my lord the king and receive whatever you want to give him."
38 "Good," the king agreed. "Kimham will go with me, and I will help him in any way you would like. And I will do for you anything you want." 39 So all the people crossed the Jordan with the king. After David had blessed Barzillai and kissed him, Barzillai returned to his own home.