The Religious leaders questioned Jesus about His identity.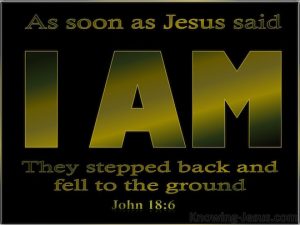 John 8:
25 "Who are you?" they demanded.
Jesus replied, "The one I have always claimed to be. 26 I have much to say about you and much to condemn, but I won't. For I say only what I have heard from the one who sent me, and he is completely truthful." 27 But they still didn't understand that he was talking about his Father.
28 So Jesus said, "When you have lifted up the Son of Man on the cross, then you will understand that I am he. I do nothing on my own but say only what the Father taught me. 29 And the one who sent me is with me—he has not deserted me. For I always do what pleases him." 30 Then many who heard him say these things believed in him.
Exodus 3:
God replied to Moses, "I am who i am. Say this to the people of Israel: I am has sent me to you."
John 8:
58 Jesus answered, "I tell you the truth, before Abraham was even born, I AM."