If a person chooses to follow Jesus. They must give all of their life to Him.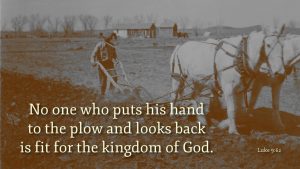 Luke 9:
57 As they were walking along, someone said to Jesus, "I will follow you wherever you go."
58 But Jesus replied, "Foxes have dens to live in, and birds have nests, but the Son of Man has no place even to lay his head."
59 He said to another person, "Come, follow me."
The man agreed, but he said, "Lord, first let me return home and bury my father."
60 But Jesus told him, "Let the spiritually dead bury their own dead![a] Your duty is to go and preach about the Kingdom of God."
61 Another said, "Yes, Lord, I will follow you, but first let me say good-bye to my family."
62 But Jesus told him, "Anyone who puts a hand to the plow and then looks back is not fit for the Kingdom of God."
Luke 10:
The Lord now chose seventy-two other disciples and sent them ahead in pairs to all the towns and places he planned to visit. 2 These were his instructions to them: "The harvest is great, but the workers are few. So pray to the Lord who is in charge of the harvest; ask him to send more workers into his fields. 3 Now go, and remember that I am sending you out as lambs among wolves.